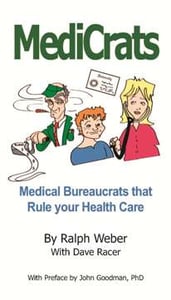 $

14.95
Red tape and ruthless regulations issued by power-hungry bureaucrats are taking control of your health care. Find out how the MediCrats have gained their control through history with evolving government programs and the development of insurance.

MediCrats goes over the power brokers who have enabled the passage of the Affordable Care Act in an easy-to-read format, and provides real solutions which can be implemented today which result in extensive cost savings.

Order your copy of MediCrats today!